Blоckchain
Ankr Partners with Polygon Labs to Optimize Web3 Development Experience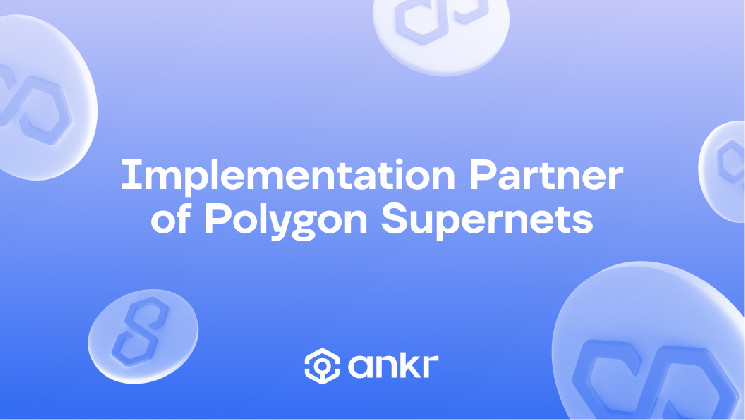 Ankr has entered into a significant partnership with Polygon Labs, which is a development and growth team backing the decentralized Ethereum scaling protocol Polygon. The partnership aims to improve the experience of the development process for Web3 developers who are interested in creating their own application-specific blockchains using Polygon Supernets.
Ankr is an all-in-one Web3 developer platform that offers a complete set of tools for facilitating the development of Web3 applications and the provision of high-performance connections to more than 30 different blockchains to enable those applications. Ankr's goal is to serve as a driving force behind an ensuing surge of Web3 innovation by delivering blockchain infrastructure that is inexpensive, secure, and distributed.
Ankr is now a partner for the implementation of Polygon Supernets as well as a vendor of their infrastructure. Ankr provides a complete engineering solution for the creation of application-specific blockchains, including Polygon Supernets. This solution combines the distinct advantages of application-specific "AppChains" in terms of security, performance, and the ability to be customized.
Bringing the Next Billion Users to Web3
Ankr AppChains is a product that gives Web3 developers the ability to easily construct bespoke blockchains that are tailored specifically to their applications. The overall quality of the development experience is elevated even further by the premium tools and services provided by Polygon Supernets. The Polygon Supernets is EVM-compatible, interoperable, incredibly performant, and customizable.
It is powered by Polygon Edge, a modular blockchain stack. It makes it possible for developers to set up a customized network without the burden of having to maintain blockchain infrastructure. In addition, Polygon Supernets make it easier for developers to establish validator sets in a short amount of time by connecting them with expert validator partners from the Polygon PoS mainnet.
Parth Pathak, General Manager of Polygon Supernets at Polygon Labs, said: "Polygon Labs couldn't be more excited for Ankr to be providing world-class tooling for building dedicated blockchains. With Polygon Supernets, enterprises, gaming, and entertainment projects can rapidly power up their dedicated app-specific chains that are fine-tuned for best-in-class EVM performance."
Ankr and Polygon Labs are two companies that share the goal of making it quicker, simpler, and more affordable to develop on Web3. In order to make Web3 accessible to a wider audience, the developers are working to simplify the process of developing blockchains while maintaining scalability and app-specific customization. Polygon Supernets gives developers the ability to rapidly build up a blockchain network that meets their specific needs in terms of performance and capacity.
Talking about the positive impact of this partnership on the Web3 industry, Parth Pathak further explained: Polygon Supernets is an ideal opportunity to bring together the world's leading Web3 providers (like Ankr) to a comprehensive ecosystem that will empower any team to build their own blockchain. Polygon Supernets will help bring the next billion users to Web3."
Streamlining Web3 Development for Mass Adoption
Any decentralized application (dApp) or smart contract that was developed for an Ethereum-compatible network, whether in Solidity, Vyper, or another language, has the potential to be deployed on a Polygon Supernet. The Ankr AppChains tool gives developers the flexibility to pick and choose the programming languages, consensus techniques, and development frameworks that they want to employ in their projects.
Kev Silk, Ankr AppChains Product Manager, said: "We are thrilled to connect Ankr's AppChain Infrastructure with Polygon Supernets to provide developers with the highest quality building experience and streamline Web3 development. With our combined expertise and resources, we will empower developers to build high-quality dApps that will transform the UX of industries like Web3 gaming, DeFi, and beyond."
Web3 developers have the ability to build Polygon Supernets in order to operate a particular application, project, or use case. These Supernets include a bridge to the Polygon PoS protocol, which is maintained by certified partners and receives additional enhancements from the Polygon Edge open-source software stack. By default, Polygon Supernets are interoperable not only with one another but also with the Ethereum blockchain.
Ankr is going to resolve two of the most significant challenges that are preventing widespread adoption of Web3: the slow transaction speed and the high gas fees. It will do this by giving developers the ability to create their own blockchains on Polygon Edge. If every dApp had its own unique blockchain, there would be no competition for storage or computation, and scalability would flourish.