Analytics
Best Crypto to Buy Now 13 June – Terra Luna Classic, GMX, Fantom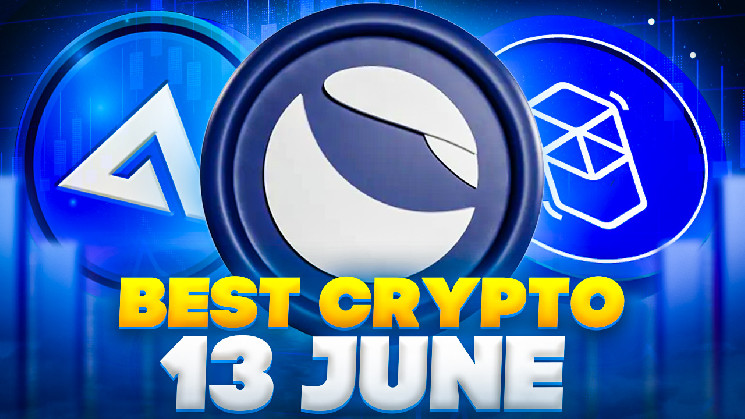 The United States inflation rate has slowed down, with May recording a 4% rate–the lowest yearly figure since March 2021.
The drop in inflation may prompt the U.S. Federal Reserve to avoid raising interest rates during its upcoming Wednesday conference, prompting market observers to closely monitor the situation.
With the current economic situation in mind, what are the best cryptos to buy now?
The monthly Consumer Price Index (CPI), a broad measure of inflation, only increased by 0.1%, falling short of the projected 0.3% increase, and further fueling speculation about the interest rate hike hiatus. However, other indicators such as the PCE and core CPI suggest a potential rise in inflation by July.
Futures markets placed a 78% bet on the Fed leaving interest rates in the 5-5.25% range earlier this week, given the jobless rate's climb from 3.4% in April to 3.7% in May. This likelihood has since surged to 94% in light of the CPI's unveiling.
Since March 2022, the Fed has raised interest rates ten times to stabilize prices after a period of near-zero rates and large-scale government bond purchases designed to spur the US economy.
With key indicators pointing towards an economic cooldown, many market watchers now anticipate that June will see a cessation of rate hikes.
However, it's worth noting that the Fed's favored inflation metric, the personal consumption expenditure index (PCE), hasn't reacted to the uptick in rates as positively as its CPI counterpart.
In the previous quarter, PCE's average growth was 4.3%, while wage growth was a mere 0.3%. In addition, the core CPI, which strips out volatile food and energy prices, rose by 0.4% for three consecutive months up until May.
This data suggests that the Fed may hold off on rate increases in June, potentially resuming the hikes in July. As Morning Consult economist John Lear advises, "Don't get lost in the weeds of dropping headline inflation. The Fed might hit the brakes on rate increases this week, but it will need to return to hiking if it wants to keep inflation in check."
On the cryptocurrency front, it's intriguing to note that despite the Fed's actions, Bitcoin continues to react to futures, although crucial information is still pending.
Following the release of the CPI statistics, the Dow Jones Industrial Average saw a 75-point increase.
Futures for the S&P 500 and Nasdaq were also in the green, climbing 0.3% and 0.6% respectively. Bitcoin experienced a brief surge from $26,300 to $26,200, albeit once again falling subsequently below the $26,000 mark as it trades at $25,847 down by 0.25% so far today.
Bitcoin has rallied nearly $10,000 since January 1, 2023, starting the year at $16,600. This upward trend has been partly driven by predictions of the Fed either maintaining or reducing interest rates.
The forthcoming Fed announcement regarding interest rates this Wednesday might act as a trigger, propelling assets to greater heights.
The bank's year-end economic forecasts, also due for release this week, could prove pivotal in assessing investor faith in Bitcoin's status as a reliable refuge.
The document is expected to adjust both unemployment and PCE projections for the year's end to 4.5% and 3.6%, respectively.
This move could spark further activity in the cryptocurrency arena, as the market continues to grapple with the implications of an unpredictable economic landscape.
With the U.S. Federal Reserve possibly avoiding interest rate hikes, it may be a good time to invest in cryptocurrencies that have strong fundamentals and/or favorable technical analysis.
WSM, LUNC, ECOTERRA, GMX, YPRED, ATOM, and FTM are some of the best cryptos to buy now.
To the Meme and Back: Wall Street Memes Shoots for the Moon
Wall Street Memes hit a milestone, raising $6.6 million in under three weeks for its $WSM meme coin presale.
Crypto investors must act fast to get the next Pepecoin, Dogecoin or Shiba Inu meme coin early.
The presale is in stage 13, with $WSM at $0.0286. By the presale's end, $WSM will be $0.0337, a 20% gain for current buyers.
Unlike most presales, Wall Street Memes' team has a track record of digital asset launch sellouts.
The $WSM presale surpassed Wall Street Bulls' 10,000 NFT collection's $2.5 million in 32 minutes.
Wall Street Memes attracted 523K Instagram, 214K Twitter, and 100K+ other followers. The community drew interactions from Twitter's most followed person, Elon Musk, twice.
Musk replied to a tweet after Wall Street Memes retweeted it, suggesting someone Musk follows, follows them. More Musk interactions could boost the $WSM presale.
Wall Street Memes also gained entrepreneur Gary Vee's attention. The huge community suggests major exchange $WSM listings like Binance, already in talks.
Listings expose tokens to more potential buyers and traders, often impacting the price positively. Decentralized exchanges will list $WSM first, then centralized ones.
Wall Street Memes was born rebelling against Wall Street in 2021's GameStop saga. "The little guy challenged Wall Street…and the legacy of those brave Wall Street Bets heroes endures," their site says. Wall Street Memes is tokenizing that movement, recently launching the $WSM presale and Bitcoin blockchain Ordinal NFT mint.
100% of $WSM is for the community. 50% in the presale funds marketing; 30% for community rewards; 10% each for CEX and DEX liquidity.
30% for rewards suggests airdrops to holders. A competition offers $50,000 in $WSM to five winners. Follow the steps on wallstmemes.com to enter.
Analysts are bullish on $WSM. Meme coins rely on community and social media, where $WSM is strong, potentially generating hype, and increasing demand and price.
Analysts predict big things when listed, suggesting buying now for the best discount. $WSM is on Ethereum and BNB Smart Chain, using ETH, BNB, or USDT. Connect your wallet to buy on wallstmemes.com.
Visit Wall Street Memes Now
Terra Luna Classic (LUNC)
Terra Luna Classic is scheduled to undergo a significant software upgrade to version 2.1.1 tomorrow, June 14.
This upgrade intends to enhance the competitiveness of Terra Classic in comparison to other blockchains, including Terra 2.0 and other Cosmos chains.
The development team behind Terra Classic, the Joint L1 Task Force (L1TF), has declared their readiness for this upgrade, which is considered to be the most substantial for the Terra Classic blockchain.
Before the upgrade, the Terra Luna Classic (LUNC) community accepted Proposal 11561, which led to the Joint L1 Task Force (L1TF) sharing details about the upgrade's progression and unique features.
The LUNC developer has urged dApps and smart contract providers to update their codebase to CosmWasm v2.1.0, upload it, and transfer code and data.
However, it is essential to note that if smart contracts are sealed, this migration may not occur, and native token balances and contract addresses may be lost post-migration.
In preparation for the upgrade, the Joint L1 Task Force team has provided instructions to validators and central exchanges.
According to the StakeBin countdown timer, Terra Classic is expected to undergo the v2.1.1 software upgrade at block height 13215800 around 14:00 UTC on June 14.
Before the upgrade, LUNC staking reached a new zenith of 1 trillion, with over 63 billion LUNC tokens incinerated.
Approximately $100 million has been staked by stakers, equivalent to about 1 trillion LUNC, resulting in a staking ratio of 14.61 percent.
Terra Luna Classic is currently trading at $0.00009466, with a gain of 6.54% so far today.
LUNC is experiencing immediate resistance from the 20-day EMA at $0.00009715 while the 20-day EMA at $0.00009203 can potentially act as support followed by the next horizontal support level of $0.00008216 to $0.00008444.
Buy Crypto Now
EcoTerra: Greener Pastures Ahead for the Best Crypto to Buy
Ecoterra, an impending web3 Recycle-to-Earn (R2E) platform, is well on its way, demonstrating remarkable headway in product development.
The green crypto project's presale for its native token, $ECOTERRA, has already surpassed a substantial $5 million.
Ecoterra is leveraging blockchain technology to drive eco-friendly practices, with its platform offering recycling rewards, a carbon offset marketplace, and a recycled materials marketplace for businesses.
The project is preparing for the beta launch of its eagerly awaited R2E application, designed to be compatible with Reverse Vending Machines (RVMs) across different countries.
The application's wide market reach, accessible via both desktop and mobile devices, is just a peek into its promising future.
By the end of the year, Ecoterra expects to launch an alpha version of the R2E application, allowing eager users to experience a demo version.
Besides, the integration of prominent beverage brands such as Coca-Cola, Carlsberg, and Evian hints at the ambitious scope of Ecoterra's recycling program.
One of the most promising aspects of Ecoterra is its lofty goal of creating an all-encompassing web3 ecosystem powered by $ECOTERRA.
This green web3 project aims to stimulate recycling, facilitate the trading of recycled materials, and motivate the offsetting of carbon footprints.
$ECOTERRA, an ERC-20 crypto token, is currently valued at $0.00925 each. However, when the presale crosses the $5.7 million mark, an 8% price surge to $0.01 will follow.
Visit ecoterra Now
GMX (GMX)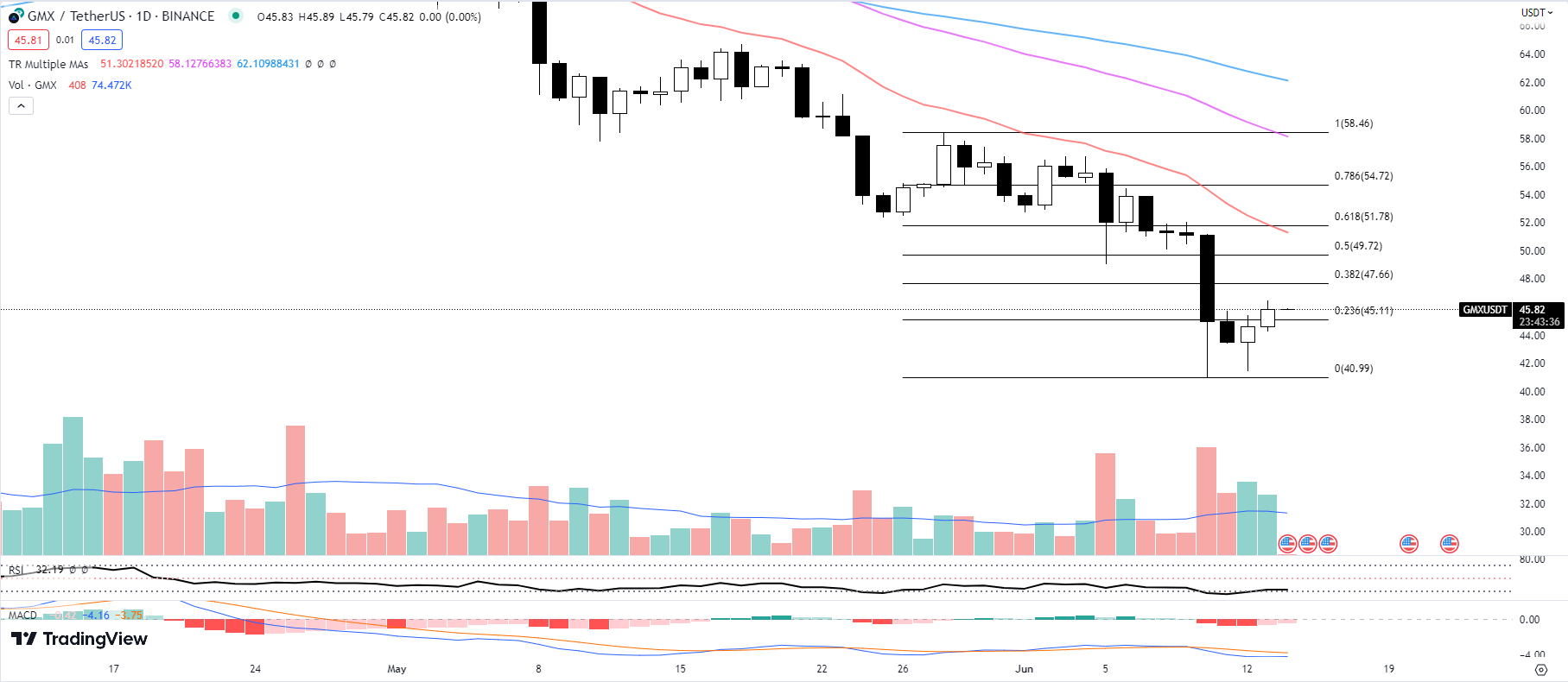 The price action of GMX is currently in a downward trend as revealed by its moving averages.
The 20-day EMA stands at $51.88, well above the current price of $45.82. This is a clear sign of the short-term bearish sentiment that has been prevailing in the market.
The 50-day and 100-day EMAs, priced at $58.63 and $62.44 respectively, further highlight this bearish trend.
Recent movements suggest that a trend reversal could be on the horizon. The RSI, a momentum oscillator that measures the speed and change of price movements, has risen to 32.04 from yesterday's 28.60.
Although still in the oversold region, the upward trend in the RSI indicates that buying pressure is slowly building.
Investors should keep a close eye on this indicator, as an RSI value above 30 often signals the start of a bullish reversal.
Similarly, the MACD histogram has moved up from yesterday's -0.61 to -0.55. Although the MACD is still negative, suggesting that the bears have control, the upward shift indicates that the strength of the bearish momentum is decreasing.
The diminishing bearish momentum, coupled with the rising RSI, hints at the possibility of a trend reversal.
Today, GMX has seen a gain of 2.71% so far, which further validates the suggestion of a potential bullish reversal.
The immediate resistance stands at the Fib 0.382 level at $47.66, while the immediate support is at the Fib 0.236 level at $45.11.
Investors should watch for a breakthrough of the immediate resistance at $47.66, which could indicate a strong bullish push.
Conversely, if the price drops below the immediate support level at $45.11, it may signal a continuation of the bearish trend.
Overall, the signals are mixed, and prudent investors should look for confirmations before making any major decisions.
GMX's technical indicators show that the coin is in a bearish trend, but signs are pointing toward a potential reversal.
Traders should closely monitor the RSI and MACD for further signals, and keep an eye on the Fibonacci retracement levels to anticipate possible price movements.
Buy Crypto Now
yPredict: Seeing the Future in the Best Crypto to Buy
yPredict, an AI-fueled trading prediction app, is creating a buzz in the crypto community. It provides a unique edge in a volatile market, making it one of the best crypto to buy now.
By making advanced pattern recognition and prediction tools affordable, yPredict democratizes access to cutting-edge trading aids.
yPredict's native token, YPRED, powers all transactions and serves as the golden ticket into the app's ecosystem.
Token holders can gain the upper hand over competitors by accessing advanced trading tools and making the most of the volatile crypto market.
With a successful presale that has already raised more than $2.3 million, yPredict is already turning heads.
The token's price is set to rise as the presale advances, with the official launch price pegged at $0.12. Hence, investors are keen to acquire YPRED early at its current price of $0.09.
yPredict's ecosystem offers several advanced features that render it indispensable for market research.
With AI signals interpreting real-time data, advanced sentiment analysis, and technical analysis of selected tokens, yPredict offers a comprehensive trading support system.
As the currency of the yPredict ecosystem, the Polygon-based token, YPRED, is used for all transactions within the yPredict Marketplace.
Token holders gain access to advanced AI analyses. Plus, YPRED holders receive 10% of all yPredict subscriptions, offering a steady income stream and promoting long-term investment.
Visit yPredict Now
Fantom (FTM)
Examining the EMAs, Fantom's current price at $0.2606 is under the 20-day, 50-day, and 100-day EMAs, at $0.2983, $0.3456, and $0.3746 respectively.
This suggests a bearish trend in the short to medium term. Specifically, the 20-day EMA at $0.2983 poses a notable resistance for the price, which would need to be surpassed before any solid bullish argument can be made.
However, a glimmer of hope comes from the RSI and the MACD histogram. The RSI has risen from 26.90 to 33.63, indicating a potential reversal of the bearish trend as it moves away from the oversold territory.
The MACD histogram has also increased to 33.63 from 26.90, reinforcing the RSI's hint at a possible upswing.
Despite the observed 6.37% gain today, it's important to closely monitor the immediate support level, which is defined by the range of $0.2133 to $0.2391.
A price drop below this range has the potential to signal a worsening of the bearish trend and further drive down the price.
Given this information, traders should exercise caution. One possible course of action for traders is to monitor a decisive break above the 20-day EMA resistance or a break below the current support level.
For the more conservative, it might be wise to hold off on taking new positions until a clearer trend is established.
For those holding FTM, it might be prudent to place stop losses just below the immediate support level to protect against significant downturns.
Bullish investors might want to wait for a sustained break above the 20-day EMA before adding to their positions.
The apparent contradiction between the RSI, MACD histogram, and EMAs serves as a stark reminder of the importance of using multiple indicators before making any decisions.
Buy Crypto Now
Ground Control to Major Profits: Launchpad XYZ Mission is a Go
Launchpad XYZ envisions connecting new crypto users with web3 possibilities. The platform intends to educate, simplify investing in digital assets, and grant access to high-potential projects.
Launchpad XYZ raised nearly $1 million to construct an all-in-one crypto gateway. The platform seeks to elucidate web3's potential for yield generation so newcomers can join crypto investing. For experts, Launchpad XYZ will offer a newsletter for unrivaled market insights.
Launchpad XYZ intends to serve various crypto assets like NFTs, ranging from play-to-earn games to metaverses.
Analysts consider Launchpad XYZ one of the best cryptos to buy now for enabling identification of the next 100x web3 asset. Launchpad XYZ will incorporate presale analysis for security and simplify users' crypto experience.
Launchpad XYZ will feature an 'Alpha' section clarifying web3 factors impacting yield generation.
The $LPX token will support Launchpad XYZ's model, offering benefits like fee and partner discounts and presale access for staking 10,000 or more tokens. This could reduce sell pressure when listed on major exchanges.
Launchpad XYZ's main features will launch in 2023's third quarter, potentially seeing major adoption and $LPX demand. Analysts are optimistic about the token's potential, with a maximum supply of 1 billion and a fully diluted market cap of $70 million.
If achieving a $10 billion market cap by 2025, $LPX could gain significantly from its $0.0565 listing price.
With various services and an enticing web3 vision, Launchpad XYZ and its native $LPX token are boldly entering the crypto presale space.