Analytics
Best Crypto to Buy Now 16 March – The Graph, Lido DAO, Injective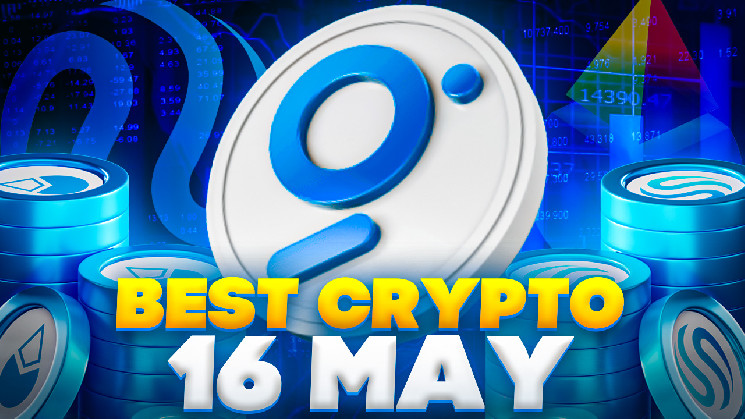 In a financial landscape characterized by soaring volatility, Bitcoin, the flagship cryptocurrency, is demonstrating a shift from its bullish trajectory that had set the tone for the year.
Today's trading pattern shows a notable pullback from last month's high of $31,046, presenting a murky market sentiment. Given this state of flux, what are the best cryptos to buy now?
Bitcoin's price is currently experiencing a minor decrease of 0.54%, trading at $27,029, with instances of dipping below the $27,000 mark during early trading.
Despite initially surpassing this milestone in April, Bitcoin has found it hard to maintain its position above the highly significant $30,000 mark.
Although BTC's annual growth still stands at an impressive 60%, there are signs that the rally could be losing its momentum and might be on the brink of a deeper correction.
Bitcoin appears to be settling just above the $27,000 support level. However, after breaching this significant support level last week, the risk of further dips in price cannot be dismissed.
Although it found support around $26,000, generating substantial upward momentum for Bitcoin is proving to be a challenge, and if it were to fall below $26,000, the next conceivable support level could be around $25,000.
Even though Bitcoin has powered through 2023 so far, its recent loss of momentum warrants diversification into other cryptocurrencies.
Considering their strong fundamentals and/or technical analysis, cryptocurrencies such as AI, GRT, ECOTERRA, LDO, YPRED, INJ, and DLANCE are some of the best cryptos to buy now.
AiDoge: The Future of Memes and AI in the Crypto Market
AIDoge's utilization of AI to reinvent meme generation is gaining a lot of interest in the cryptocurrency community, and the platform has raised an incredible $8.3 million so far in its presale.
AiDoge distinguishes itself from other AI-based cryptocurrencies such as SingularityNET and The Graph by specifically targeting the vast community of internet users who actively engage with memes on a daily basis.
Unlike its counterparts, AiDoge caters to the mass market of meme enthusiasts, offering a platform that will empower users to express their creativity and engage in a more immersive online experience.
On the technical side, AiDoge will leverage machine learning and neural networks to create memes from text prompts, following in the footsteps of widely popular AI chatbots like ChatGPT.
This AI-driven image-generating system will bring significant changes to the language and dynamics of memes, elevating the overall user experience.
The platform's core lies in the application of machine learning and large language models.
AiDoge's systems will be trained on extensive datasets of meme images and crypto news, enabling it to generate on-trend memes in the future.
As more people use AiDoge, its learning capacity increases, further refining its offerings.
AiDoge will also introduce an interactive community element through its public wall feed, where users can actively participate by voting for their favorite memes.
The creators of the most-liked memes will be rewarded with $AI tokens, while stakers will earn daily rewards based on the amount staked, creating a potential revenue stream for content creators.
As artificial intelligence continues to disrupt various sectors, AiDoge is positioned to become a serious contender in the cryptocurrency market.
Its exceptional combination of AI and meme culture makes it one of the best cryptos to buy now.
The Graph (GRT)
The Graph (GRT) attempted to build on yesterday's 7.37% gain after closing above the Fib 0.382 support at $0.1220.
However, GRT faced strong resistance at the 20-day and 100-day EMAs at $0.1261 and $0.1318 respectively.
The failure to close above these short-term EMAs indicates the presence of sellers, suggesting GRT may consolidate or retrace lower in the immediate term.
Momentum appears to be weakening based on the decline in the RSI from 46.35 yesterday to 44.69 today. The drop in RSI points to potential downside risks ahead.
The MACD histogram has turned slightly positive to 0.0004, but remains close to the zero line, showing a lack of strong upside momentum.
Trading volume spiked yesterday to 135.129 million but dropped significantly today to 71.24 million.
The substantial decrease in volume shows a lack of sustained buying interest, raising doubts about the further upside.
For GRT to push higher with conviction, volume needs to expand. Overall, volume trends also indicate near-term weakness.
The series of lower highs, loss of upside momentum, failure to close above short-term resistance, and drop in volume point to GRT likely trading sideways to lower in the short term.
The potential support zone between $0.1080 to $0.1113 could come into play if the current support at the Fib 0.382 of $0.1220 fails to hold.
Trading or investing in GRT may face risks in the present conditions. The technical picture may improve if GRT can build up momentum to overcome resistance and close above the 20-day and 100-day EMAs.
ecoterra: Pioneering a Rewarding Future of Recycling and Sustainability
Fostering a future where recycling pays dividends, the first-of-its-kind blockchain-based ecosystem, ecoterra, is making its mark in the cryptocurrency market.
ecoterra encourages a culture of environmental stewardship by incentivizing users and offering companies a platform to demonstrate their commitment to tackling environmental issues.
ecoterra's ecosystem is rooted in four primary components, a Recycle-2-Earn reward system, a Carbon Offset Marketplace, a Recycled Materials Marketplace, and an Impact Trackable Profile.
Through the app, users who contribute to recycling efforts can earn $ECOTERRA tokens in return.
These tokens can be held, staked, or spent on ecological activities such as beach cleanups, tree planting, online learning about environmental issues, or lending support to global green energy projects.
The app will also offer a unique feature where actions combating climate change are tracked and recorded on users' profiles, leading to achievements and Non-Fungible Tokens (NFTs).
ecoterra will empower both users and companies to neutralize their carbon emissions by participating in diverse projects worldwide, utilizing ecoterra tokens.
With each ton of carbon offset, individuals and organizations earn a prestigious distinction on their profiles, eventually transforming into Non-Fungible Tokens (NFTs) upon reaching specific milestones.
The Recycled Materials Marketplace intends to streamline the connection between companies seeking recycled materials and recyclers.
Companies can search for the materials they need using custom filters for specific regions, and transactions will be completed using ecoterra tokens.
The Impact Trackable Profile will provide businesses with the opportunity to purchase impact packages, effectively mitigating the adverse effects of their production processes.
Companies will benefit from ecoterra in a number of ways, including increased brand awareness, access to a large user base, and valuable insights into user behavior.
ecoterra has raised over $3.8 million in its presale so far. After surpassing the $3 million mark just a week ago, the environmentally conscious cryptocurrency start-up is now raising funds at an impressive rate of more than $500,000 per week.
When the presale hits $3.925 million and advances to stage seven, the $ECOTERRA token price will increase from $0.00775 to $0.0085, triggering the next scheduled price increase.
$ECOTERRA will subsequently be listed on major cryptocurrency exchanges at a price of $0.01 later this year.
Lido DAO (LDO)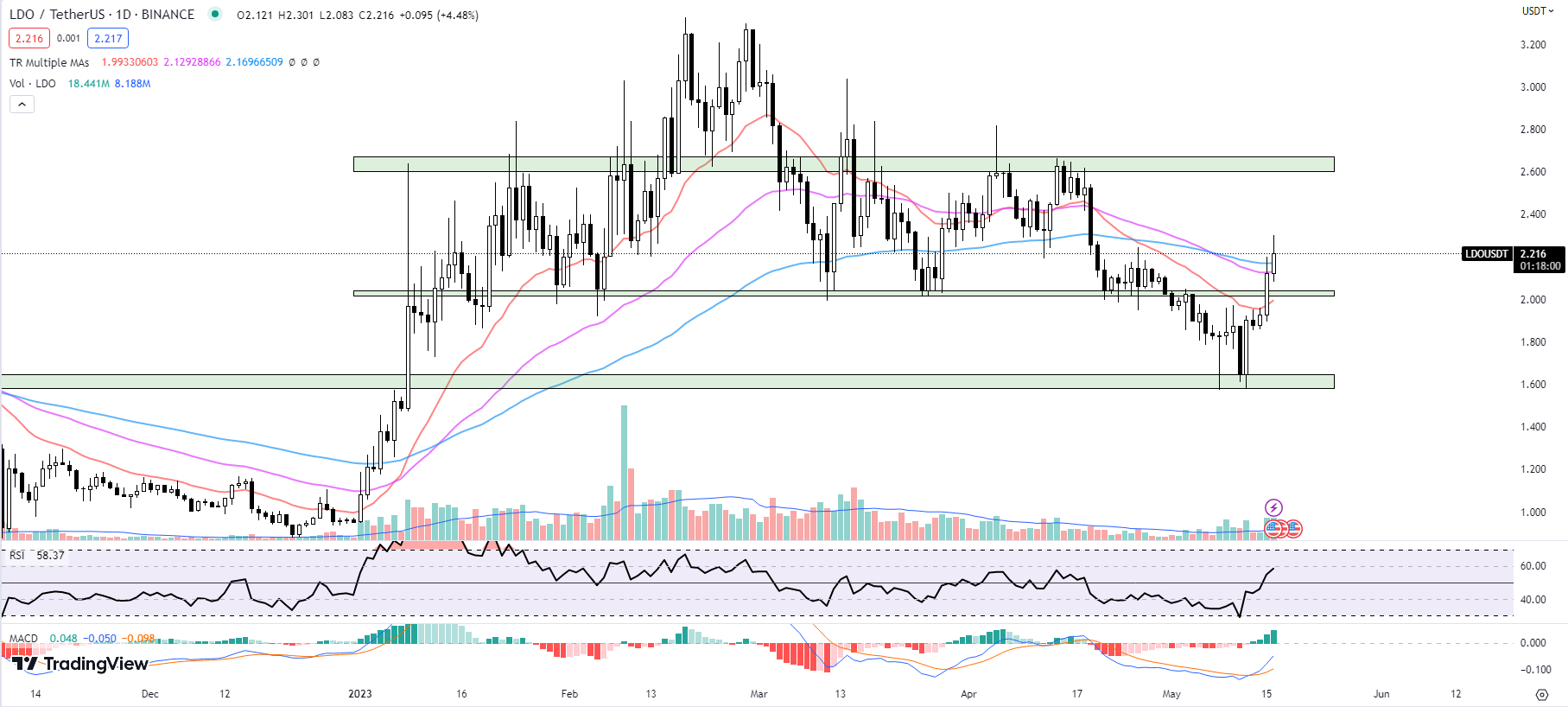 Lido DAO has been gaining momentum over the last few days and appears to be ready to continue its upward trajectory based on key technical indicators.
After bouncing off support around $1.578 to $1.648 on May 12, LDO has risen over 30% and is currently attempting to break out of its 50-day and 100-day EMAs.
The successful break above these key EMAs is a bullish signal that indicates strengthening upside momentum.
As long as LDO can stay above these EMAs, it puts the path of least resistance to the upside.
The daily RSI has also been rising steadily, increasing from 54.81 yesterday to 58.40 today. This shows that positive momentum is building for LDO.
Meanwhile, the MACD histogram grew from 0.031 to 0.048, also indicating improving upside momentum.
Should the rally continue, the first level of resistance lies between $2.598 to $2.671.
If this is overcome, it may encourage further buying to propel LDO higher.
On the other hand, if the price retreats below the EMAs, support can be found around $2.014 to $2.041.
LDO is displaying positive technical indicators pointing to the potential for further gains in the coming days if upside momentum can be sustained.
The break above key EMAs, rising RSI, and MACD levels all signal a strengthening bullish momentum.
AI-Powered Market Advantage: yPredict is One of the Best Crypto to Buy Now
The AI-powered trading and crypto research startup yPredict has raked in over $1.1 million in its presale so far, indicating strong early demand for its $YPRED token.
As interest in yPredict's token continues to surge, the presale looks set to sell out its current stage in under a week.
yPredict's institutional-grade AI-powered crypto price prediction system is expected to disrupt the crypto trading industry.
When the fundraising reaches the $1.632 million mark, the $YPRED token presale will move into its sixth stage, increasing the token price from $0.07 per token to $0.09.
With three presale stages remaining, the $YPRED price is set to reach $0.11 and eventually list on cryptocurrency exchanges in Q3 at $0.12.
The yPredict platform will leverage state-of-the-art predictive models and data insights developed by top AI experts and quants, offering traders and investors an "unbeatable edge."
The platform will provide access to AI-powered signals, breakouts, pattern recognition, and social/news sentiment features.
The ypredict.ai marketplace will enable experts to generate potential income by offering model predictions or data research as trading signals, which traders and investors can subscribe to.
AI has already demonstrated its capability to predict market movements, with machine learning-based large language models (LLMs) such as ChatGPT proving effective in predicting stock price movements.
yPredict's $YPRED token, issued on the Polygon blockchain, is the native token of its AI-powered trading platform.
Users will need to pay a $YPRED-denominated subscription fee to access the platform's premium features.
Ten percent of these fees will be distributed to existing $YPRED token holders, offering a passive income stream and encouraging long-term holding.
Purchasing $YPRED tokens is simple, as they can be bought with ETH, MATIC, BNB, or using a debit/credit card during the presale.
Injective (INJ)
Injective (INJ) has been experiencing a period of sideways trading over the past five days, with its price action hovering just above the Fib 0.618 level at $6.061.
This prolonged consolidation period, coupled with diminishing trading volume and the EMAs closing in on the current price, hints at a potentially significant price move on the horizon.
Currently, both the 20-day and 50-day EMAs are positioned above the present INJ price of $6.15, standing at $6.77 and $6.52, respectively. The 100-day EMA is significantly lower than the current price, recorded at $5.53.
The narrowing gap between these EMAs and the current price, combined with the descending volume, is a common precursor to a volatility spike.
However, the direction of the anticipated price move remains uncertain and largely depends on whether the price can break through the immediate resistance or support levels.
The RSI has decreased to 42.58 from 44.81, indicating a slight increase in selling pressure.
This RSI level is not yet at the oversold threshold, leaving room for further downward movement.
The MACD histogram shows a value of -0.170, a slight improvement from yesterday's -0.197.
This increment, albeit small, could be indicative of a gradual shift in momentum toward the bulls. Still, the MACD remains in negative territory, indicating that the bears currently have control.
The trading volume has experienced a downtrend, with the current volume at 2.281 million, a decrease from the previous day's 3.088 million, and below the moving average volume of 4.108 million. This shrinking volume during a consolidation phase can often lead to a sharp breakout.
The immediate resistance lies at the Fib 0.5 level at $6.81, an important level for INJ to overcome for bullish momentum to be established.
Conversely, immediate support is found at the Fibonacci 0.618 level at $6.061. If this level doesn't hold, the 100-day EMA at $5.53 will be the next line of defense for the bulls.
While Injective (INJ) is showing signs of a potentially significant move, the direction is yet to be determined.
Traders should closely monitor the immediate support and resistance levels, as well as the volume, RSI, and MACD indicators for clues on future price action.
Unlocking the Future of Freelance Work: DeeLance Is One of the Best Crypto to Buy Now
Remote work is the new normal, yet freelancing norms remain stuck in the past. DeeLance is developing a one-of-a-kind metaverse where freelancers can earn, build community and advance their careers powered by blockchain technology.
This Web3 freelancing platform, which has already raised over $880,000 so far in its presale, presents a unique opportunity for investors looking to tap into the growing gig economy.
DeeLance's metaverse is designed to address the long-standing issues plaguing the digital freelancing sector, such as copyright infringement and payment fraud.
Alekh and Ivan, DeeLance's Community Head and Manager respectively, explained that the tokenization of freelance work into NFTs will provide an unmatched level of security and peace of mind for all stakeholders.
Powered by the $DLANCE token, the DeeLance platform goes beyond a safe freelancing space to offer users a chance to socialize, work and earn in a unique digital environment.
The $DLANCE token has utility within the ecosystem, giving presale holders access to the Metaverse VIP Experience and greater brand awareness.
Users can also create personalized avatars, connect, and lease office space, contributing to a thriving freelancing community.
DeeLance's influence in the crypto space is undeniable; despite launching its presale only a few weeks ago, the platform has already garnered a following of nearly 30,000 followers on Twitter and thousands of members on Telegram and Discord.
As the presale continues, the price per $DLANCE token will increase gradually, offering potential gains for early investors.