Analytics
Bitcoin, Ether and Stablecoins Total 80% of $1T Crypto Market Cap as Investors Flee Altcoins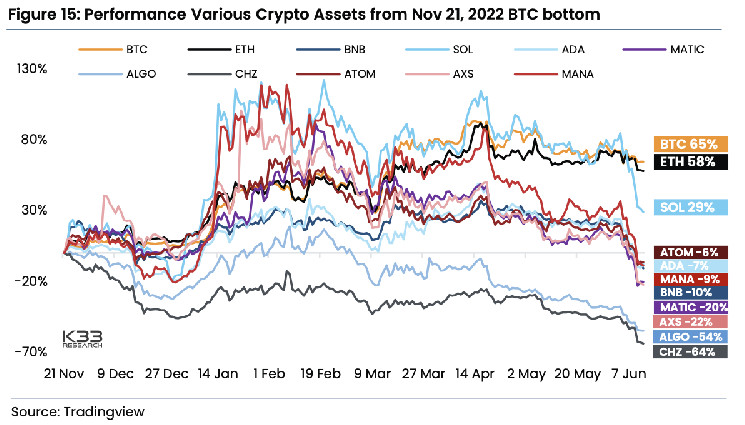 The dominance of bitcoin (BTC), ether (ETH) and stablecoins in the crypto market surged to its highest level since February 2021 as investors fled from smaller tokens after last week's U.S. regulatory clampdown.
The combined market capitalization of the two largest digital assets and stablecoins compose 80.5% of the total cryptocurrency market valued at some $1 trillion, digital asset research firm K33 Research noted in a report Tuesday.
Altcoins – an umbrella term for alternative cryptocurrencies – suffered a dramatic sell-off last week as the U.S. Securities and Exchange Commission (SEC) deemed multiple tokens securities in lawsuits against crypto exchanges Binance, Binance.US and Coinbase. Top 10 crypto assets such as Binance's BNB, Cardano's ADA and Solana's SOL – all tagged as securities in the lawsuits – lost as much as 30% of their value over the week.
If the SEC's allegation about a slew of tokens being securities are proven right, token issuers and exchanges would face a mounting burden to register with the SEC. Popular retail trading platforms Robinhood and eToro have decided to end U.S. trading for some tokens flagged by the SECs, while market makers have likely sold tokens in anticipation of lower trading demand.
Altcoins underperform
The legal battle could drag on for years, K33 wrote, impeding capital inflows to the assets under SEC scrutiny and propelling the investment case for BTC and ETH as safer bets from regulatory risks.
"Funds will likely retort to a hands-off approach due to excess compliance work and overall low trading volumes, disincentivizing market participants to engage. This could limit liquidity further onwards and lead to a prolonged slow market," K33 wrote.
"Over the next year, we could thus see the BTC and ETH dominance strengthen further due to the cost and risk burden of allocating capital to altcoins from the 2017 era and beyond," the report added.
The two leading cryptos have outperformed smaller tokens this year so far, preserving much of their gains from this year's crypto market recovery. BTC and ETH are up 57.3% and 45.4% year-to-date, respectively, according to CoinDesk data.
Other cryptocurrencies, however, dropped to new yearly lows, with BNB and MATIC tumbling 2.7% and 15%, respectively, since the start of the year.