Analytics
Chainlink (LINK) Price Finds Support at $5 as Whales Step in – Will It Hold?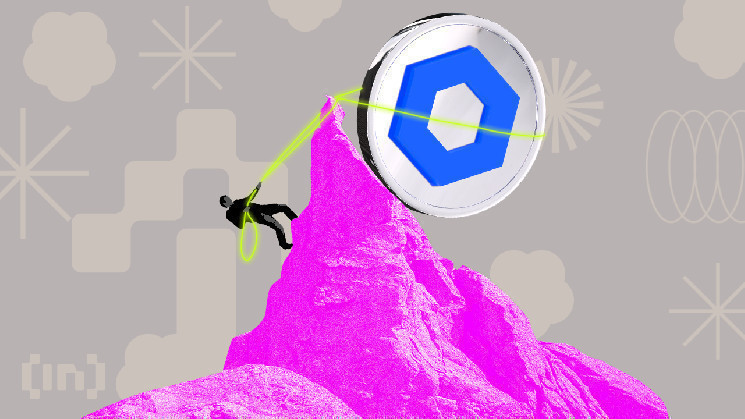 On June 6, Chainlink (LINK) price hit a three-year low of $5.06. After ending two-consecutive months in the red, LINK appears to have found a bottom at $5. With whales now looking to scoop the dip, what are the chances Chainlink will enter a bullish price reversal in the coming weeks?
Over the past few days, Chainlink has witnessed a significant surge in whale trading activity. With other strategic investors now considering staking their Chainlink tokens to mitigate unrealized losses, LINK looks set for an imminent price recovery.
Chainlink Whales Transaction Hits 2023 Peak
After nearly three months in decline, Large institutional investors in the Chainlink network have started betting big on LINK once again. The IntoTheBlock chart below shows that whale transactions involving LINK reached a 2023 peak on June 10.
Notably, between June 4 and June 13, it surged nearly 400% from 21 transactions to 103 Large transactions.

Chainlink (LINK) Price Recovery, June 2023, Large Transactions, Source: IntoTheBlock
The 'Large Transactions' metric evaluates whale investors' activity by summing up daily transactions exceeding $100,000.
Whale investors are critical to the viability of any blockchain ecosystem. They provide liquidity to the markets and soak up significant sell pressure during periods of contraction.
With prices sinking to three year lows, the whales are now positioning for an imminent LINK price recovery by scooping up the dip. If the trend continues, it is only a matter of time before strategic retail investors also become bullish.
Investors are Looking to Stake Rather Than Sell
With Chainlink's price sinking to a three year low, most of the current LINK holders are now sitting on unprecedented levels of unrealized losses. LINK holders are now turning toward yield-bearing staking opportunities to mitigate their losses.
The Glassnode chart below shows a considerable increase in the supply of LINK staked across various DeFi protocols. Specifically, between June 5 and June 13, LINK holders locked up another 776,000 tokens (0.15% of total circulation supply) in smart contracts.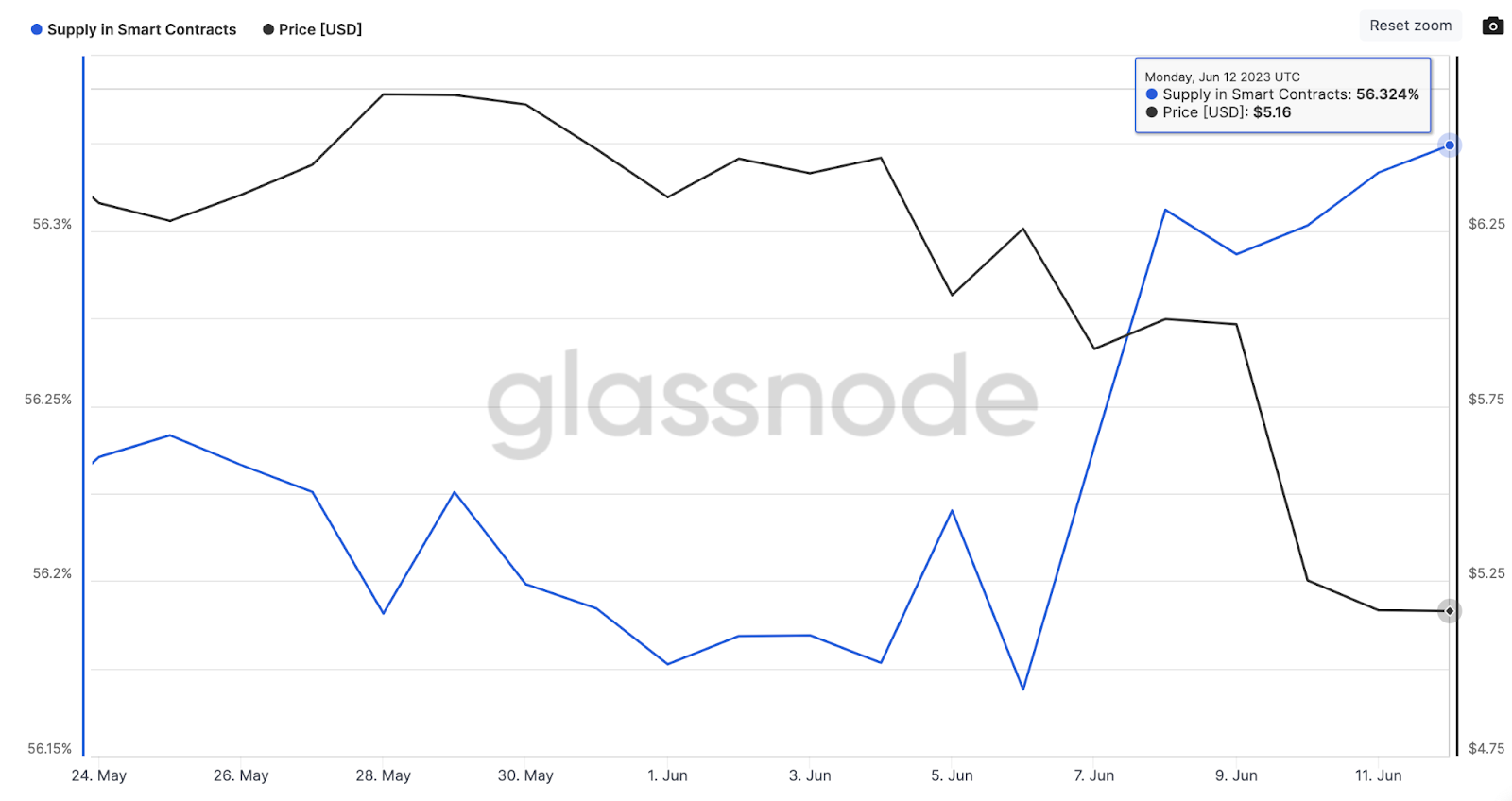 Chainlink (LINK) Price Recovery, June 2023, Supply in Smart Contracts. Source: Glassnode
The Supply in Smart Contracts evaluates staking activity by measuring changes in the percentage of tokens circulation supply currently locked up in smart contracts.
When it increases considerably during a price correction, as shown above, it indicates that holders are growing unwilling to sell. Rather, they are turning to yield-bearing protocols to mitigate potential losses.
Hence, the temporary decline in the LINK supply circulating on exchanges could trigger a price recovery in the coming days.
LINK Price Prediction: Potential Rebound Toward $6
Considering the growing confidence among Chainlink whale investors, LINK price will likely rebound toward $6. However, for the bulls to be confident of the price recovery, LINK must clear the initial resistance at $5.50
However, IntoTheBlock's In/Out of The Money Around Price (IOMAP) data suggests LINK will face initial resistance around the $5.50 mark.
At that zone, it could hit a sell-wall from 3,120 investors that bought 4.2 million LINK at the average price of $5.48. But if LINK can push past that resistance zone, it could rally toward $6.04.

Chainlink (LINK) Price Prediction, June 2023 – IOMAP. Source: IntoTheBlock
​​On the other hand, the bears could invalidate the Chainlink price recovery if it unexpectedly drops below the critical $5 support zone.
But, the 2,810 investors that purchased 4.45 million LINK tokens at the minimum price of $5.06 will likely prevent the drop. Although unlikely, LINK could further retrace toward $4.45 if that support level cannot hold.