Analytics
First Mover Asia: Actually, Hong Kong Would Be a Terrible Home for Coinbase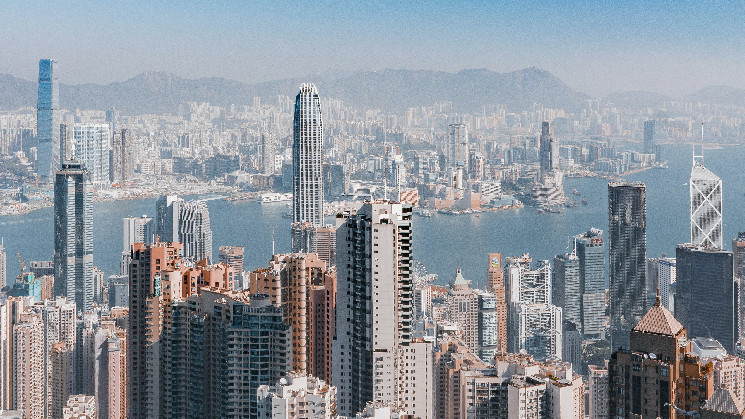 Good morning. Here's what's happening:Prices: Crypto traders are optimistic about the Fed skipping a rate hike.Insights: Hong Kong has rules for crypto, but they aren't that great.Prices
Bitcoin is opening Asia's trading day at $25,948, up 0.2%, while ether is at $1,740, down 0.1%.
Edward Moya, a Senior Market Analyst with OANDA, sees the likely possibility of the Fed skipping a rate hike on Wednesday (prediction markets are giving it a 96% chance of happening) and increased regulatory scrutiny of altcoins as fuel for bitcoin's support.
"Cooling inflation report is fueling this bull market as the Fed should have no problem skipping a rate hike on Wednesday. Wall Street is becoming a little bit hopeful here that an FOMC June skip could eventually become a July pause," Moya said in a note. "Bitcoin remains stable around the $26,000 level as investors consider reducing altcoin exposure and increasing Bitcoin holdings."
Driven by falling car wholesale prices and weaker consumer support, disinflation, alongside the likely rate hike skip, is causing a decrease in the dollar's value, Moya observes, and a steady demand for used vehicles, and clothing among other necessities; China's stimulus package and expected Saudi oil price cuts have uplifted crude oil prices, and while low inflation initially boosted gold, continued stock growth may limit its rise.
At the same time, one key bitcoin technical analysis indicator, the moving average convergence divergence (MACD), has flipped bearish, signaling a possible extended price slide, despite Bitcoin maintaining support at $25K. In CoinDesk's coverage of this, however, analysts noted U.S. inflation figures and the Fed's possible rate hike skip could also impact Bitcoin's price performance.
Biggest Gainers
Asset
Ticker
Returns
DACS Sector
Avalanche
AVAX
+1.2%
Smart Contract Platform
Terra
LUNA
+0.7%
Smart Contract Platform
Chainlink
LINK
+0.7%
Computing

Biggest Losers

Asset
Ticker
Returns
DACS Sector
XRP
XRP
−2.9%
Currency
Solana
SOL
−2.5%
Smart Contract Platform
Polygon
MATIC
−2.4%
Smart Contract Platform
InsightsHong Kong's Crypto Rules Aren't Going to Bring in Exchanges
Amid an ongoing lawsuit from the Securities and Exchange Commission (SEC), one Hong Kong lawmaker has invited Coinbase to set up shop in the territory.
After all, Hong Kong is in the process of making rules for crypto. In the U.S., Coinbase has to sue to try and compel the SEC to make rules for it to operate.
So on paper Coinbase making a move to another jurisdiction would make sense, and Hong Kong, with its rulebook and traditional position as a fast-moving market hub in Asia, would be a logical place to move to.
In theory.
But the reality on the ground is that Hong Kong's rulebook itself isn't all that attractive to crypto exchanges.
First, the number of tokens available to trade will be limited compared to what users can expect from established exchanges.
Per rules from the Securities and Futures Commission, Hong Kong's securities watchdog, there needs to be a 12-month cooling off between token launch and listing. Stablecoins are banned, as are crypto derivatives, earn or lend programs and likely staking services too. Airdrops are a huge no-no.
"Hong Kong's framework as it exists today is highly unattractive. The market is small and unproven, banking partnerships are non-existent, and products are highly restricted," Leo Weese, co-founder and President of the Bitcoin Association of Hong Kong, told CoinDesk.
Weese says that the Asian markets are "fundamentally different" from their Western counterparts, and Coinbase would not automatically succeed in Hong Kong, even if they were willing to give up their current customer base.
"What makes Hong Kong potentially attractive is that many tokens are not deemed securities, and those that are do not need to be registered like in the United States, making it possible to offer trading for tokens that are deemed unregistered securities elsewhere, such as decentralized protocols," he said.
At the same time, Weese notes, moving to Hong Kong will not automatically shield Coinbase from U.S. regulation or the arm of the SEC.
BitMex, which calls Hong Kong home, got ensnared in U.S. regulatory regime despite its tenuous ties to the United States. And so did Binance – its mothership and founder squarely offshore.
So even if Coinbase were to make the move, it wouldn't be a very productive decision.