NFT
Pudgy Penguins Review: Top Outstanding NFT Project In The Industry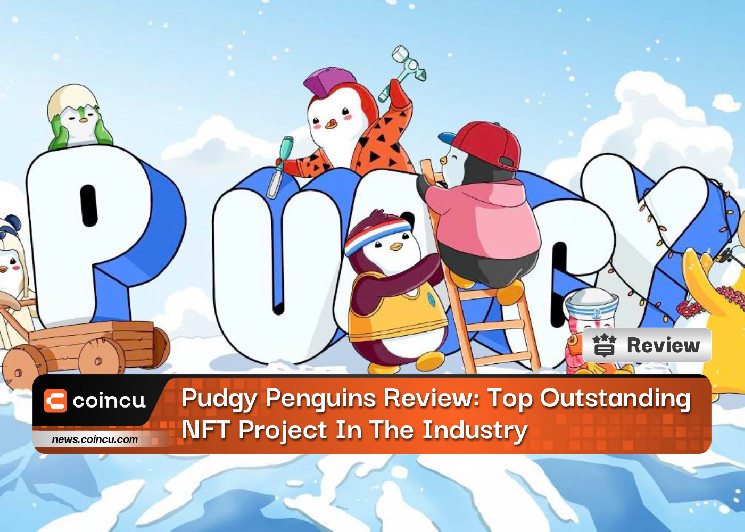 What is Pudgy Penguins?
After the great success of Bored Ape Yacht Club, another animal-themed PFP project immediately shook the NFT ecosystem in the fight for the NFT market in 2021, Pudgy Penguins is a group of overweight penguin avatars.
Pudgy Penguins is a collection of NFT PFPs that was released in July 2021. Like many other collections at the time, the project gained a lot of attention from the community almost away. The collection comprises 8,888 individually created penguin NFTs, each with over 150 hand-drawn characteristics.
This collection is based on cute penguins found in Antarctica. The diversity of this collection contributes to its attractiveness and distinctiveness, whether it's penguins wearing Viking caps or Tropical flower necklaces.
Pudgy Penguins has gone beyond appearances by offering owners special access to experiences, events, and IP licensing options, among other things. This brand has a large following and is utilized to create content, items, toys, and so on.
It might be due to the market as a whole collapsing, or it could be because the creators of a specific initiative fled with the community's support. Even the smallest suspicion from a project's community that the founders are capable of doing something similar might cause them to lose trust.
That's precisely what occurred in the Pudgy Penguins community in late 2021 when they realized that the project's finances had been cleared by the original crew.
However, Pudgy Penguins has suddenly captured the attention of all NFT users, from announcing a successful $9 million crowdfunding campaign to releasing Pudgy Toys and collecting $500,000 in sales in only two days.
The rise comes only a few months after a multimillion-dollar purchase was handed over to new management as faith in the company's original team dwindled. These have shown Pudgy Penguins' dominance in the huge NFT industry.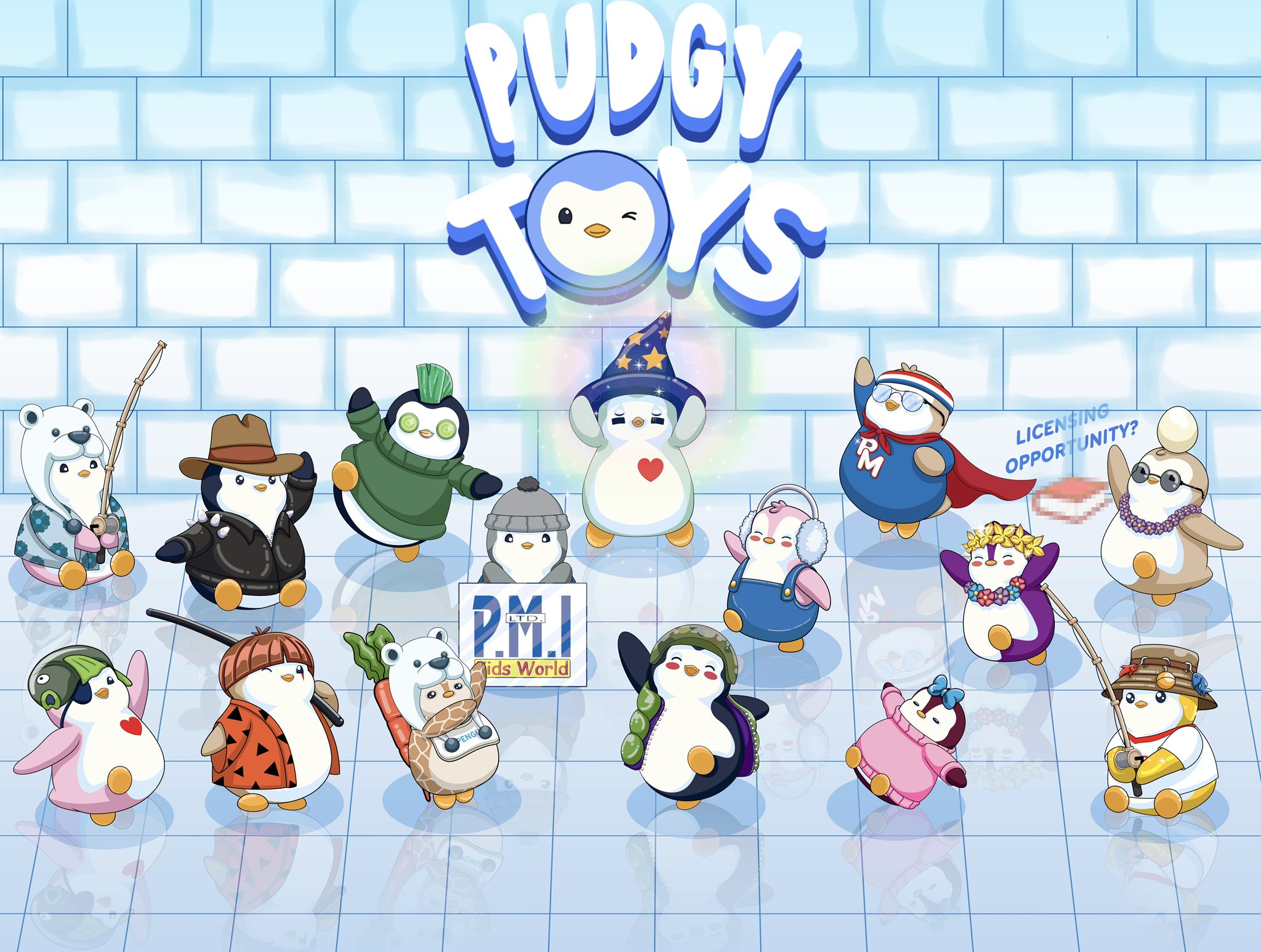 Forgotten past
Pudgy Penguins will be available for purchase in July 2021, right in the middle of the bullrun's peak enthusiasm. Pudgy rapidly attracted the attention of the community and was thought to be likely to have a resounding success like the BAYC department due to the general market's backing as well as the assured popularity of the NFT PFP kits at the time.
Nevertheless, the joy did not last long, as a series of claims from project supporters against the founding team surfaced on Twitter, alleging that ColeThereum (creator of Pudgy Penguins) had engaged in fraud previously and at that time.
According to allegations, ColeThereum misappropriated all of the money in the fund and has no plans to continue developing the idea. Instead, the creator offered to repurchase the project for 888 ETH for 100% of the shares.
Luca Schnetzler purchased the project rights in April 2022 for 750 ETH (equal to $2.5 million at the time). Luca is one of the project's most ardent supporters; he recognizes the collection's potential and is certain that the abilities and expertise he has gained over the years can aid Pudgy Penguins' comeback.
Ecosystem overview
Pudgys has developed significantly after being bought by Luca Netz, with particular efforts such as developing Pudgy Word and selling Pudgy Toys on Amazon. The initiatives produced in the Pudgy Penguins environment are listed below.
Lil Pudgys
Little Pudgys is a collection of 22,222 hand-drawn Pudgys created on the blockchain using LayerZero technology. Users may transfer their Lil Pudgys to other blockchains using Pudgys Bridge. For example, Lil Pudgys was born on Ethereum but can now be transferred to Polygon, BNB Chain, or Arbitrum.
Little Pudgys is an expansion of Pudgy Penguins that allows you to access the universe revolving around the Pudgy Penguins ecology at a lower cost. Pudgy Penguins may claim 8,888 Little Pudgys for free, with a total of 13,334 available for purchase in December 2021. Owners of Little Pudgys will have the same rights as Pudgy Penguins. Both have access to experiences, events, and prospects for intellectual property licensing, among other things.
Pudgy Rods
Pudgy Rods, originally "Pudgy Gifts," has been offered as a free NFT, and any NFT Pudgy Penguins holder may claim mint before August 30th, 2021.
Initially, each NFT took the shape of eggs wrapped in red ribbon, with the contents kept a mystery from the community. The presents were first revealed to be a bridge until Christmas Eve. While the debut was received with mixed reviews, it seems that people now regard Pudgy Rods as part of the larger Pudgy Penguins ecology.
Pudgy Toys & Pudgy Word
On May 18, 2023, the project announced the launching of Pudgy Toys, a tangible stuffed toy offered on Amazon that quickly generated a stir in the market after reaching $500,000 in sales in only 48 hours. The development team also sees the physical toy as a "Trojan horse" for the web3 and NFT ecosystems, as well as a means of exposing Pudgy Penguins to a large number of real-world consumers.
One feature that distinguishes Pudgy Toys is that each toy comes with a digital experience called Pudgy World. Each participant in Pudgy World must create an account and provide an email address. NFT soulbound is the user account, which is equivalent to the NFT wallet. Customers who buy a toy will get a birth certificate with a QR code. The user receives a digital object on Pudgy World after scanning a QR code. This digital object is available for trading on the Pudgy World Marketplace.
Ultimately, the introduction of Pudgy Toys and Pudgy World brought Pudgy Penguins closer to consumers. Moreover, collecting income from sales contributes to the development of a long-term NFT empire.
Pudgy Penguins NFT
Key Metric
Use Cases
Owners of the Pudgy Penguins NFT may use them as follows:
Picture Profile NFT (PFP) as an avatar
This is the key to joining the Pudgy Penguins community for holders.
If a pattern can be recognized, buy and hold for investment.
It is a brand image used in the creation of various things such as toys, clothing, and so on.
NFT Purchase and Allocation
On July 23, 2021, the Penguins collection will be available to the public at a starting price of 0.03 ETH. Pudgy Penguins currently has no information on NFT allocation.
The Pudgy Penguins team was able to gather 266.64 ETH (worth $532,000 – ETH price was $2,000 at the time) with an amount of 8,888 NFTs sold out on the day of the sale.
NFT traits
Each Pudgy Penguins image will have a variety of elements. The greater the value of the NFT, the rarer the structural traits. Pudgy Penguins NFT has five characteristics:
The background has 13 types: Yellow, Underwater, Supermarket, Beach,…
The skin has 15 types: Black, Dark Gray, Light Gray, Red, Yellow gold, …
The face has 27 types: Agitated, Pillow Case, Mirrored, Star Struck,…
Head has 54 types: Fish Orange, Egg Gold, Hatched, Crown,…
The body has 64 types: Shark Suit, Pillow Case, Banana Suit,…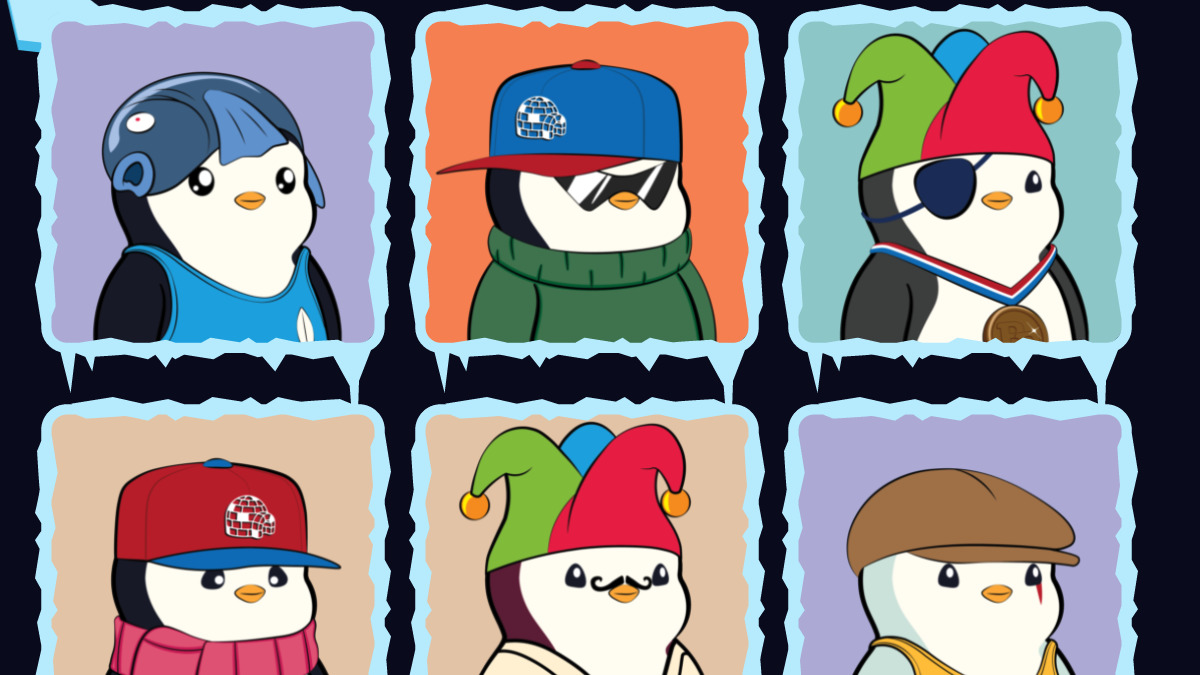 Team
Luca Netz is the Pudgy Penguins project's CEO. Luca Schnetzler has worked in a variety of occupations, but because of a special skill, Luca became a billionaire at the age of 19. Luca steadily got stronger over time as he took on the job of CMO at Von Dutch, launched a venture fund that brought in millions of euros… Luca entered the cryptocurrency market in 2016 and began accumulating NFTs. Luca acquired Pudgy Penguins for $2.5 million in 2022 and became the company's official CEO.
Other members of the project:
Lorenzo Melendez: CTO
Nicholas Ravid: CMO
Peter Lobanov: CCO
Jennifer McGlone: CLO
Dr. Kaizu: Head of Operations.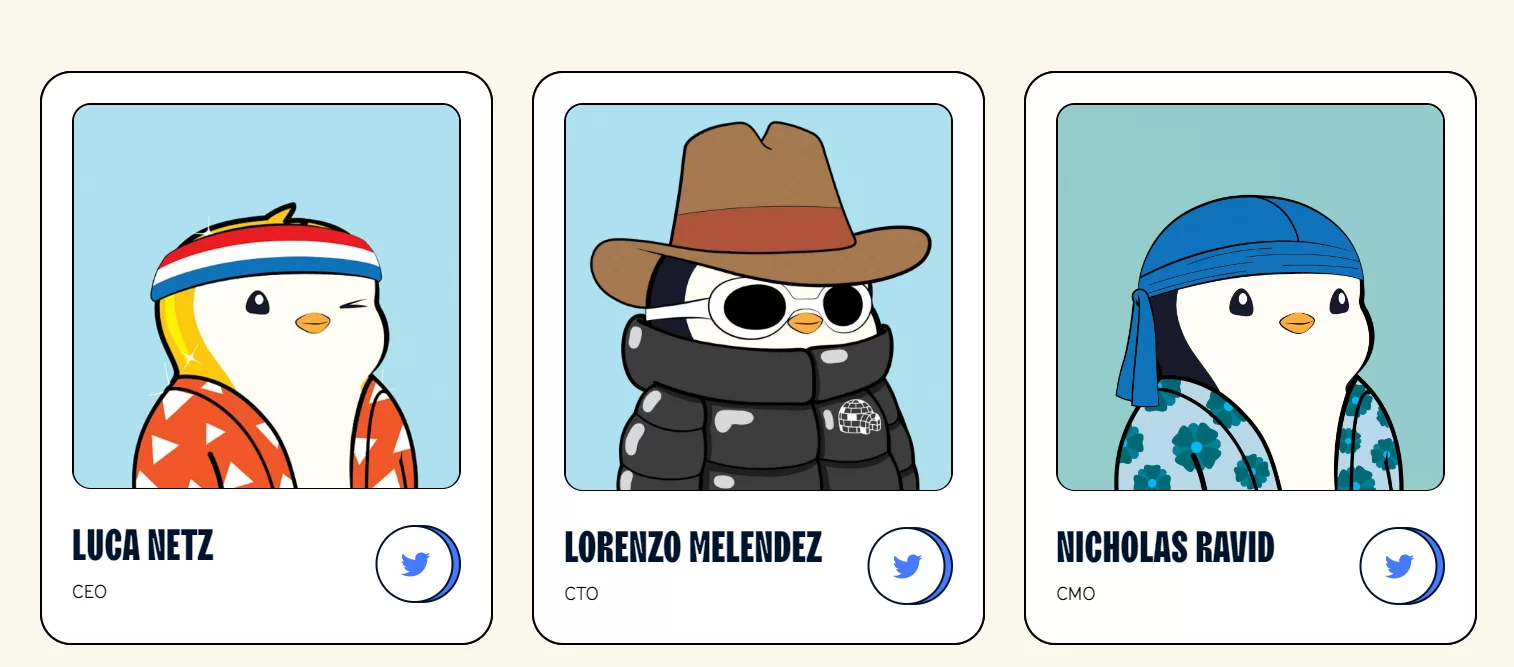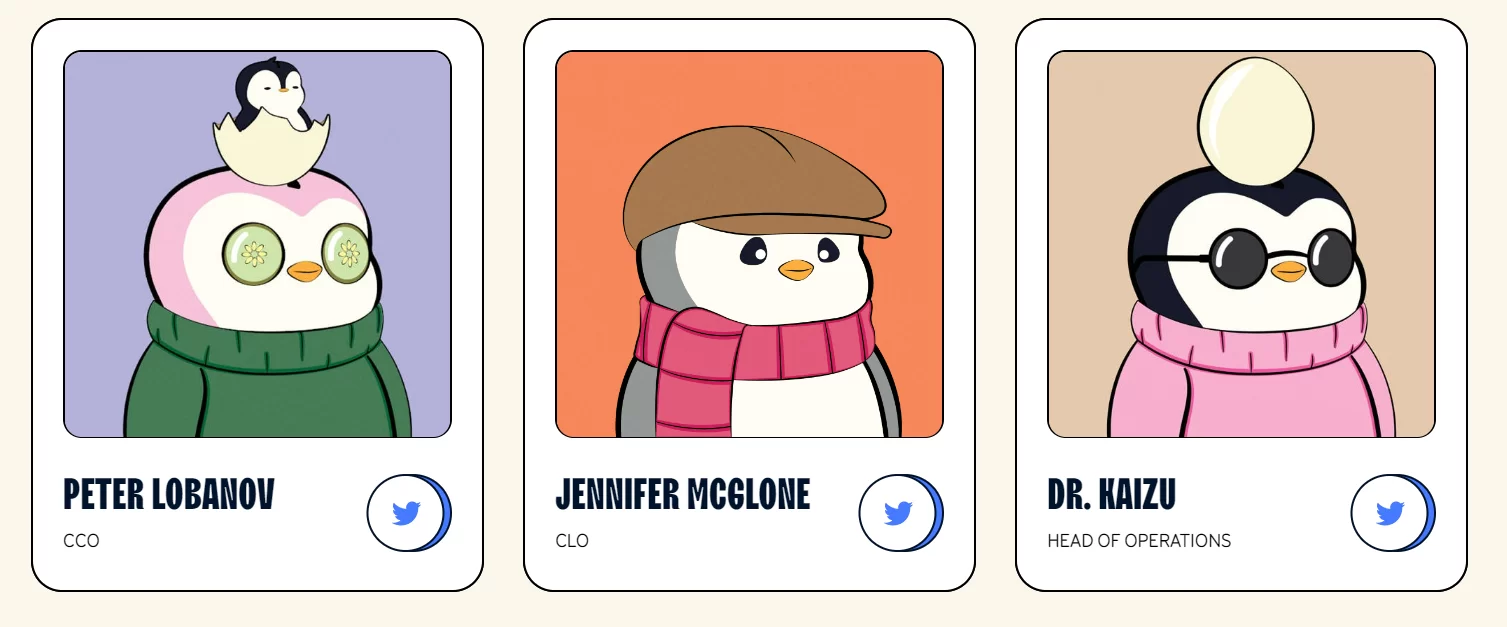 Roadmaps & updates
July 2021: Pudgy Penguins is launched with a collection of 8,888 NFT penguins on the Ethereum blockchain. In just 19 minutes, this collection sold out.
October 2021: The project donates part of the project's profits to organizations that support animal welfare and environmental conservation.
January 2022: The community decided to vote to remove the founder after discovering that they withdrew the project's funds to do things that did not bring common value, in addition, they were also involved in NFT scams.
April 2022: The Pudgy Penguins brand was acquired by businessman Luca Schnetzler for 750 ETH (approximately $2.5 million) to continue development.
December 2022: The trading volume reaches 1,200 ETH, double that of the BAYC bluechip collection from Yuga Labs.
January 2023: Project sends money earned from Sotheby's auction to charity.
March 2023: CEO Luca Schnetzler announces trademark registration for Pudgy Penguins.
Investors and Partners
Investor
Pudgy Penguins raised $9 million in a seed round headed by 1kx investment fund on May 9, 2023. Pudgy Penguins intends to use this funding to expand its intellectual property and team.
Pudgy Penguins has never raised funding from investment funds prior to the financing. The team's operational finances are derived from the sale of Pudgy Penguins during the first mint, as well as a royalty fee from the sale.
Partners
Pudgy Penguins announces cooperation with PMI, a worldwide toy brand, on September 4, 2022. Over the last 25 years, PMI has been a pioneer in the children's toy sector, collaborating with well-known brands such as Fortnight and Harry Potter. PMI is also collaborating with multinational firms such as Kellogg to enter the Web 2.0 sector.
The project had an auction with Sotheby's in October 2022. This is a key step in establishing its status in the art world.
Pudgys teamed with LayerZero in January 2023, enabling customers to transport NFT Little Pudgys across several chains. Pudgy Penguins is also the first Web3 brand to expose people to Soulbound Token.
Pudgy Penguins has a strong emphasis on tangible toys, ensuring that the charming penguins' IP is visible to daily customers. The collaboration with Retail Monster helps to promote Pudgy Toys and introduce them to a broader audience throughout the globe.
Conclusion
Pudgy Penguins seems to be the strongest example of a resurgence in the NFT market. With unique strategies that go beyond the Web3 domain, this project still has a great potential in the future. As the project continues to stay at the top of OpenSea's volume charts, fans of currently struggling NFT projects may have new reason to hope for their return.
DISCLAIMER: The information on this website is provided as general market commentary and does not constitute investment advice. We encourage you to do your own research before investing.