Analytics
These Cryptos Could Reach New All-Time Highs in April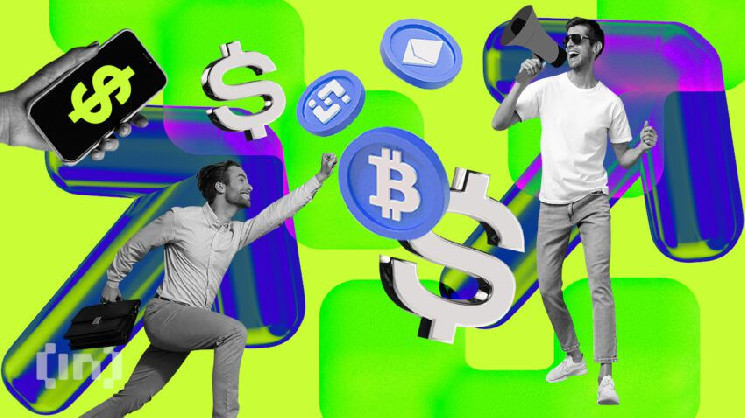 Even though the cryptocurrency market has been bullish in 2023, most prices are still considerably below their peaks. However, OKB and Aptos (APT) are two digital currencies that show bullish price signals and could break all-time highs in April.
OKB Crypto Price Consolidates Before Upward Movement
The OKB price increased alongside a parabolic ascending support line since September 2022. The increase led to a new all-time high price of $58.85 on Feb. 18.
However, the price has fallen since and broke down from the parabola on March 2.
The wave count indicates that the OKB price is currently in wave four of a five-wave upward movement (black). As a result, the correction will likely take the shape of a symmetrical triangle. This is supported by the bounce (green line) at the 0.5 Fib retracement support level and possible support line of the triangle.
Afterward, if the utility token breaks out, the first preliminary target for the new all-time high would be at $72.23, using the 4.61 Fib extension (white) of wave one. However, a more accurate target can be forecast once wave four is complete.
On the other hand, an OKB token price decrease below $23 (red line) would invalidate the bullish forecast. In that case, the OKB price could fall to $12.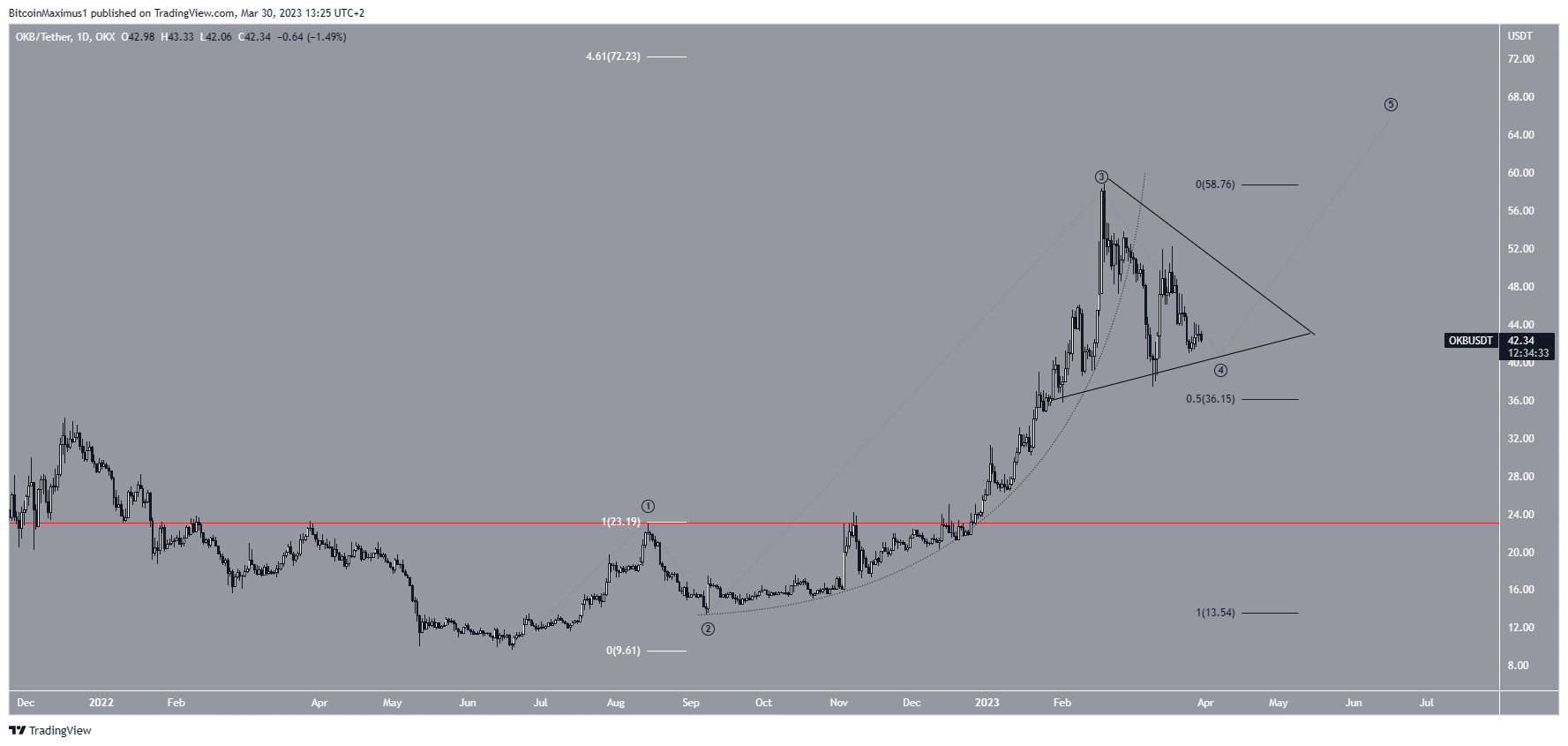 OKB/USDT Daily Chart. Source: TradingView
Aptos (APT) Price Wave Count Supports All-Time High
Even though the price action for APT does not provide a decisively bullish outlook, the wave count does. The APT price completed a five-wave upward movement at the beginning of the year, leading to the $20.40 all-time high price.
Afterward, it corrected below a descending resistance line in what looks like an A-B-C correction.
The movement since March 10 looks like the beginning of a new upward movement. Firstly, the APT price bounced at exactly the 0.618 Fib retracement support level of the previous upward movement, which is a common sign that marks the end of a correction.
Afterward, the crypto price broke out from a descending resistance line and seemingly began a new upward movement.
If so, the price will increase until at least the 1.61 external Fib retracement of the previous drop at $26.90. This would amount to a new all-time high and will be confirmed with a daily close above $13.85.
However, if the Aptos price falls below its March 10 low of $9.70 (red line), it would invalidate the bullish structure and could lead to a drop toward $7.90.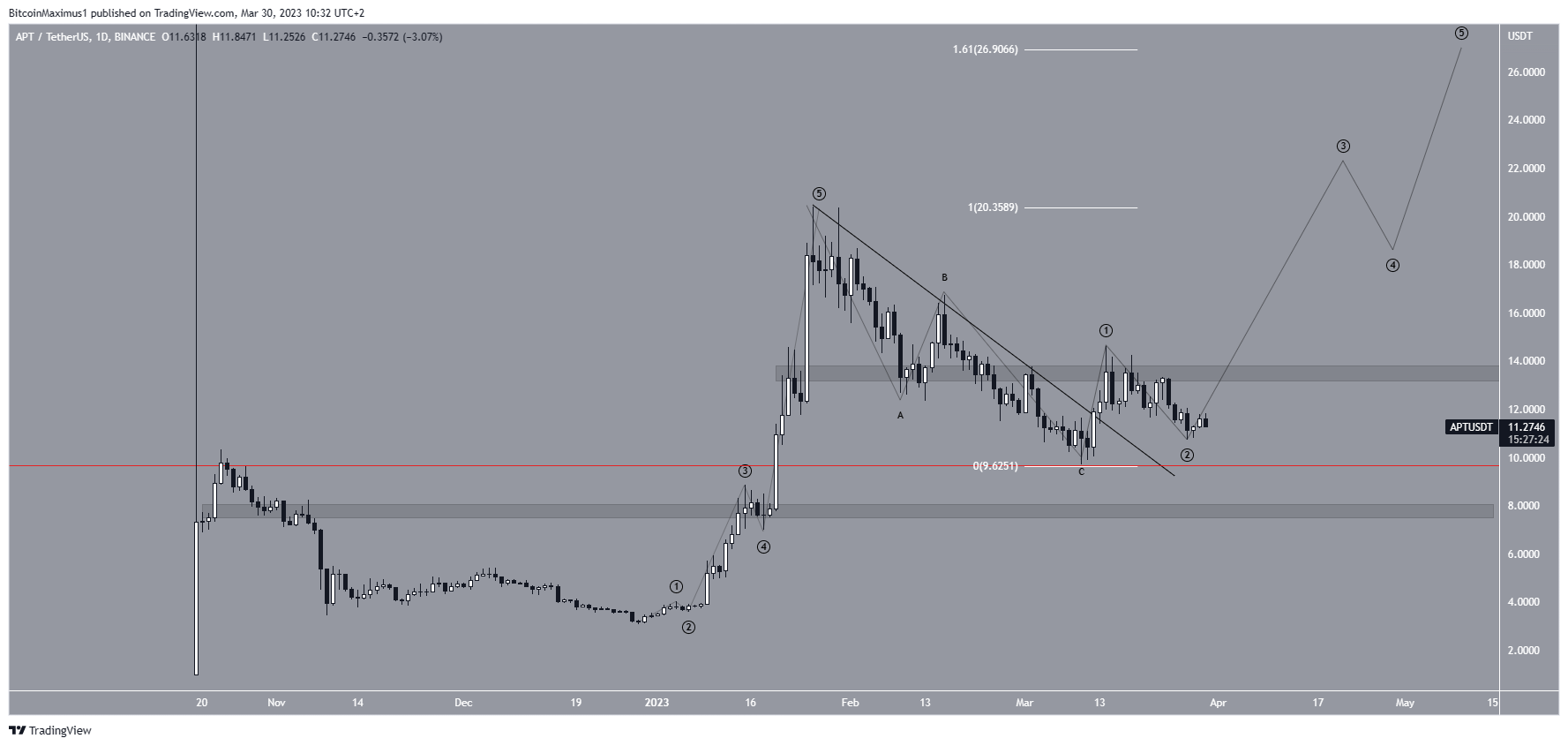 APT/USDT Daily Chart. Source: TradingView
To conclude, both the OKB and APT prices are expected to reach new all-time highs this month. Invalidation of their wave counts would also invalidate the bullish outlooks. For the former, that would occur with a drop below $23, while a decrease below $9.70 would be required for the latter.